Duhovka management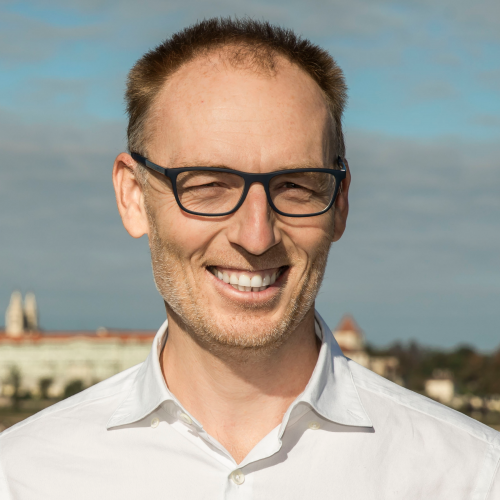 Tomáš Janeček
Tomáš Janeček
general manager

What Duhovka means to me
To me, Duhovka represents a school that I would like to attend as a child. This wish and perhaps even desire were the fire that fueled its creation. Duhovka is composed of enthusiastic professionals, so naturally they create a friendly, supportive and inspiring school environment with a clear direction and rules. We are very lucky to have found such people and together we create something that makes sense to us.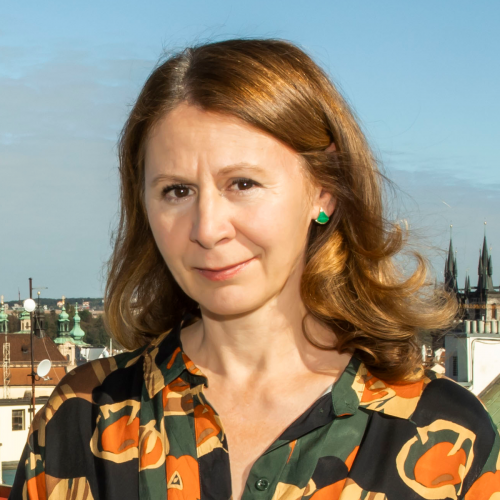 Ivana Janečková
Ivana Janečková
chairman of the Duhovka Group board

Methodical leadership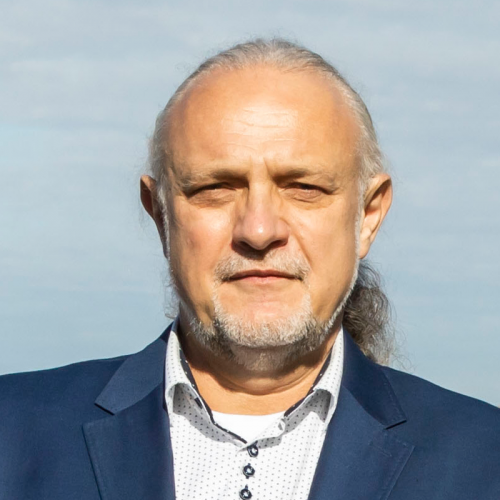 Jindřich Kitzberger
Jindřich Kitzberger
director of studies

Why I work in Duhovka
To me, Duhovka is the embodiment of my lifelong and constantly evolving professional visions of what schools should really look like in the 21st century. As a director of education, I brought in the knowledge and experience gained during my long career in education but the whole 10 years I have been watching with amazement the surprising, even dramatic growth and development of the Duhovka organism. This development enriches me immensely in return. Evidently, we have found a completely unique cultivating medium for this organism, the composition of which is as if from another planet. From this point of view, it creates a new professional life for me.

Experiences that help me in my work
It would be hard to identify something in my past that doesn't help me while working in Duhovka. This is due to the incredible complexity of Duhovka life, where I make use of not only my practice in various positions in education, but also my many years of study of everything related to education and training, as well as everything I have ever undertaken in the field of personal growth and education, even my extracurricular interests and, in fact, everything that we learn during the course of life.
Finance department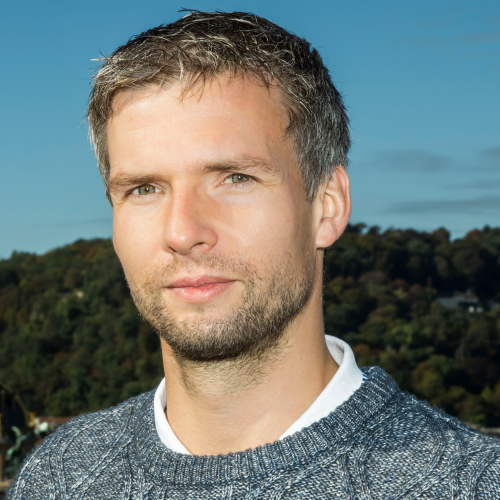 Jan Blažek
Jan Blažek
strategic and investment manager

Why I work in Duhovka
In Duhovka, we managed to bring together a professionally and humanely unusually high-quality group of people who thus create a product that really makes sense. It may sound like a repeated cliché, but education is really almost the only risk-free investment with a certain return.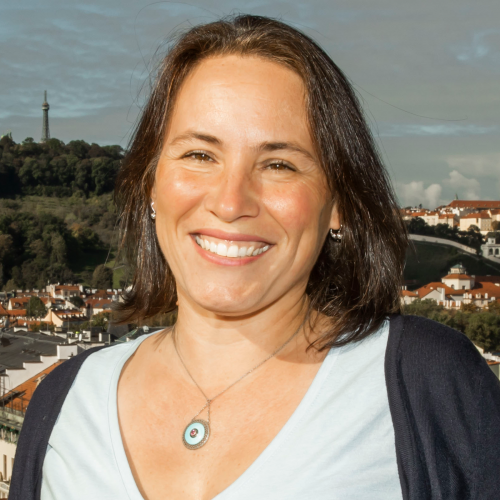 Eva Neuvirtová
Eva Neuvirtová
financial accountant

Why I work in Duhovka
I am happy in Duhovka because I am surrounded by a team of nice and friendly people. The work in Duhovka is varied and interesting. What I appreciate about working in Duhovka is that the organization is constantly trying to improve the individual processes. People here are motivated to do things differently, better and keep up with the times.


Experiences that help me in my work
While working in Duhovka, economic education gained from the University of Economics in Prague helps me, as well as my previous work experience in the field of finance and accounting. Thanks to the fact that I had the opportunity to work in an accounting firm in the past, I gained the necessary accounting experience. My experience as a freelance accountant has taught me responsibility for my own work. Working in financial management in a private medical facility enriched me with valuable experience of teamwork and new knowledge and experience in the field of finance.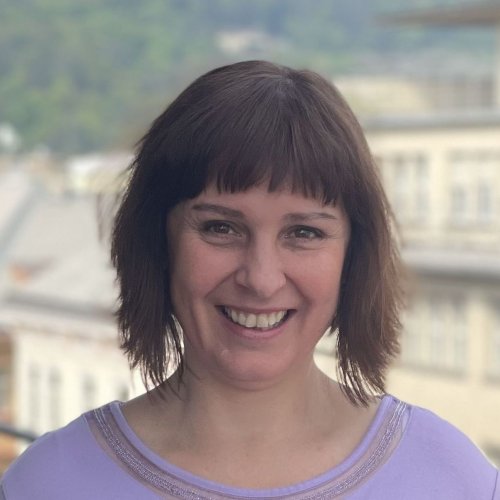 Marcela Tylšová
Marcela Tylšová
financial specialist

Why I work in Duhovka
In Duhovka, I mostly appreciate my kind and amazing colleagues who work great as a whole and always find a solution to any situation. I have been working with them for three years in the finance department and the work is never boring or routine. Sometimes it is necessary to work very hard but with a good team like the one in Duhovka everything can be done. With a smile on your face. :)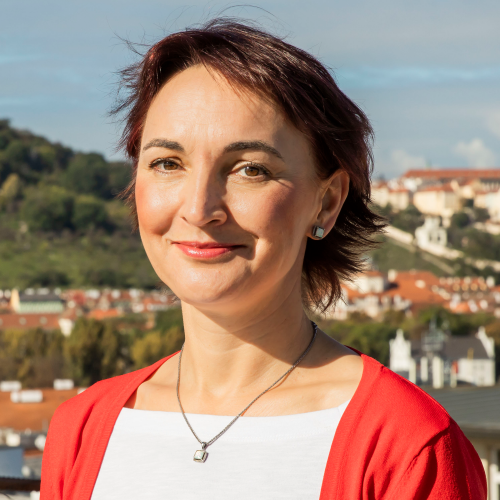 Helena Vedralová
Helena Vedralová
financial manager

Why I work in Duhovka
I am unable to say why I have spent almost 7 years with Duhovka in one sentence… Duhovka is dear to my heart. Probably the most important thing for me is that I do work that is useful for children and their education. We focus on various projects that do not recur and thus improve the school environment for children. In Duhovka, I am surrounded by great colleagues and the incredible energy of Ivana and Tom Janeček, who give direction to all goals and projects.

Experiences that help me in my work
My work in Duhovka is diverse, which may sound surprising coming from the finance team manager. For my work I use economic education from the University of Economics and knowledge gained in an audit company, where I had the opportunity to participate in audits and provide reporting for international companies. My subsequent experience in an international construction company helped me understand planning and financial management of construction projects. During maternity leave, I became a co-founding member of the civic association Family and Child which operates a maternity center and constructed a playground funded by the European Union. My three children also taught me a lot - especially in terms of negotiation, patience and diversity :) It is also important for my work to be able to take a break from it from time to time, which I do when cycling, skiing, inline skating and during mountain trips.
IT department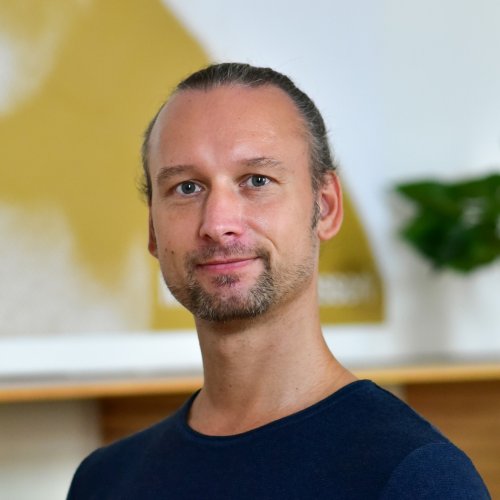 Lukáš Doubrav
Lukáš Doubrav
IT manager

Why I work in Duhovka
It's not a job, it's a privilege to be part of a community I want to support based on my beliefs. Co-creating the conditions for a "Duhovka" way of education makes a lot of sense to me and it is very important to me that I spend time doing things that are meaningful. Time is the rarest commodity we have. I really like the idea of social entrepreneurship, where it is not profit but maximum sustainable quality that is the goal. This approach, hand in hand with leadership that is based on mutual respect and support, not on fear or official hierarchy, gives me the opportunity and space for personal as well as professional development.

Experiences that help me in my work
It helps me a lot to always remember that each of us lives in our own world, sees things with our own eyes and understands different concepts in different ways. We are original, unique and that's how it should be.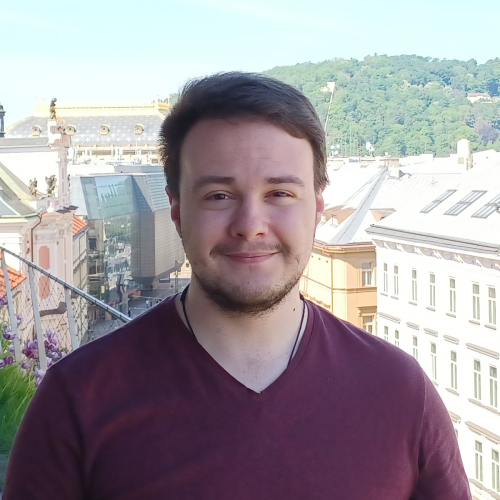 Matyáš Rolný
Matyáš Rolný
ICT specialist

Why I work in Duhovka
I am happy in Duhovka because of the atmosphere it radiates and because of the very kind people who work there. The work is meaningful and fun, partly because we support a great education system and contribute to something good. The Duhovka premises are also very comfortable.

Experiences that help me in my work
What definitely helps me in Duhovka is my previous experience in communicating with people, including countless presentations and, of course, as an IT support, also the fact that I graduated from a secondary private IT school.
HR department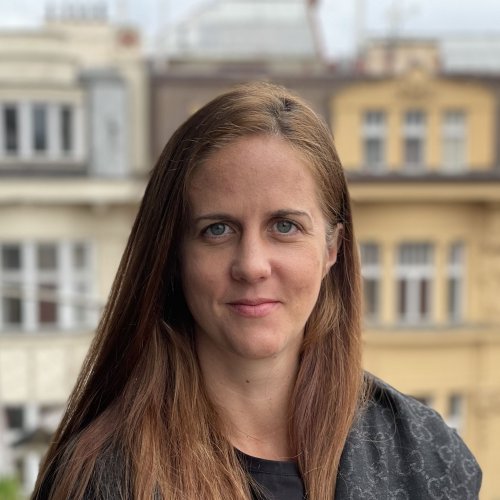 Martina Bedřichová
Martina Bedřichová
HR manager

Why I work in Duhovka
For me, it is a joy to work in Duhovka. A place where you can feel like yourself, have space for your own ideas and where you meet a lot of interesting and inspiring people. These are all reasons why I like Duhovka. It gives me meaningful work, nice people around and the opportunity to constantly develop. And last but not least, thanks to Duhovka, I am learning to look at the upbringing of my two children from a different perspective, and I really enjoy this connection.

Experiences that help me in my work
I graduated from the University of Economics in Prague, majoring in International Trade and Diplomacy, and I have been working in the HR field since 2007. I experienced the corporate environment, local start-ups and held the role of an external consultant on various projects. I draw from all this in Duhovka. I recharge during time spent with family and sports.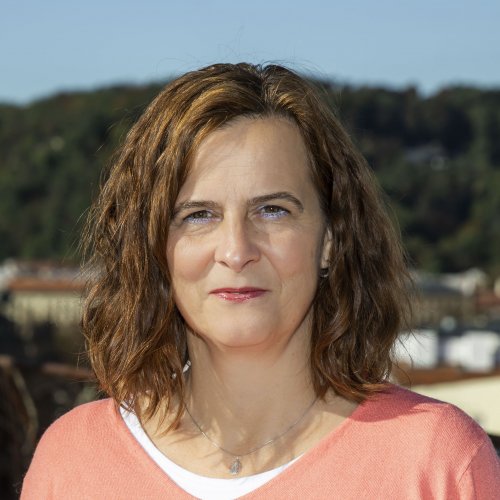 Blanka Horáčková
Blanka Horáčková
HR projects manager

Why I work in Duhovka
I am happy in Duhovka because I am surrounded by people who have a very human approach to private as well as work related problems. One can also openly say what they are not good in, what they do not know or have never dealt with. You do not have to be ashamed and do not need to present yourself as "omniscient". When unpleasant situations arise, humor helps and you get help from others who try to resolve them as quickly as possible.

Experiences that help me in my work
My hitherto 25-year professional experience helps me the most in Duhovka. Sometimes it is difficult to navigate various situations across the five Duhovka institutions and to find out where to start unravelling the issue :-)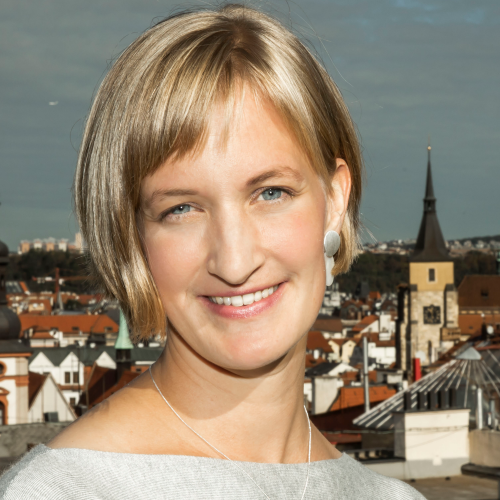 Dominika Lázničková
Dominika Lázničková
HR specialist

Why I work in Duhovka
What I like about Duhovka is its variety and diversity. This applies to both the workload and the work environment and colleagues. Across institutions and positions, I perceive that we are all united by a common goal, we see meaning in our work and we are constantly trying to develop and move forward. I appreciate that Duhovka offers an open and respectful environment where there is enough space to share feedback and express one's own opinion.

Experiences that help me in my work
I studied Andragogy and Personnel Management at the Faculty of Arts, Charles University and then joined a large multinational company, where I gained experience in the field of human resources and payroll processing. After parental leave, I started working in Duhovka, where I now work as an HR specialist. I dedicate my free time to my two little sons and my family, I like to dance salsa, uncover the secrets of Old Prague or play billiards.

While working in Duhovka, my experience working in a corporate company helps me. Thanks to that, I appreciate that we work differently in Duhovka and that we perceive a deeper meaning in what we do. Duhovka's mission also affects me personally, because thanks to my two sons, I look at the education of children from the point of view of a parent as well. It makes me happy to know that children can enjoy instruction, which teaches them to think independently, defend their views and take responsibility for their decisions.
Marketing department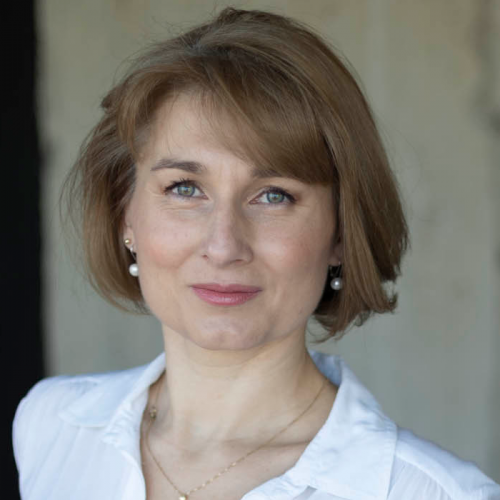 Martina Galušková
Martina Galušková
marketing specialist

Why I work in Duhovka
Duhovka attracted me with Montessori pedagogy and holistic approach to education. Moreover, in a bilingual form! Although the school year is still the same, from September to June, it's definitely not routine. Duhovka is still growing and developing thanks to a team of amazing and interesting people. And that's a joy to watch.

Experiences that help me in my work
I studied marketing, economics and statistics and spent many years in marketing research on projects of many clients from various fields. And this is exactly what helps me with my work in Duhovka - being able to listen, understand what is needed, analyze and find a way.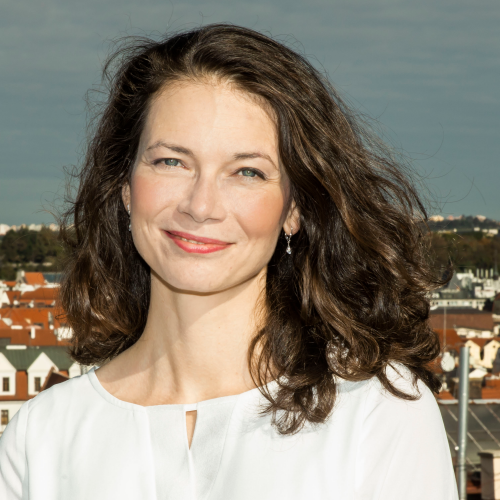 Lenka Szotkowska
Lenka Szotkowska
marketing specialist

Why I work in Duhovka
To me, Duhovka is a place where people with an open mind and heart meet and strive for a common goal - to create a motivating and friendly environment where children learn and experience a carefree world. This in itself is nothing small, but I feel that Duhovka goes one step further in its efforts. It shows that the Montessori method works in practice, thus helping to change people's view of education in general.

Experiences that help me in my work
In Duhovka, I am in charge of PR and marketing - a field in which I have been working for almost 15 years. Although I originally studied international business at the University of Economics, already my first job in the sales department of a multinational pharmaceutical company somehow shifted and marketing completely overruled business. Thanks to many other experiences, I found out that my place is where marketing does not have to build castles in the air and lie to clients. I found such a place in Duhovka.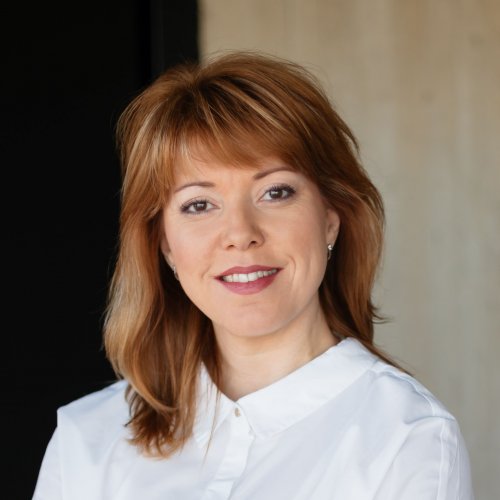 Veronika Thompson
Veronika Thompson
marketing manager

Why I work in Duhovka
In Duhovka, I found not only space for my creativity, but most importantly a team of people who respect and listen to each other. We have a shared goal! It is important for me to work with people who value their own work and share the same values. To me, Duhovka has become a place where I like to drop by even "after working hours" :-)

Experiences that help me in my work
Duhovka is for those who have the courage to grow and get to know themselves. For those who understand the responsibility of the whole project, which is the education of children and adults. Duhovka will become a part of your life and it is up to you to decide how deep you allow it to go. Duhovka tends to be dear to people's heart!
Office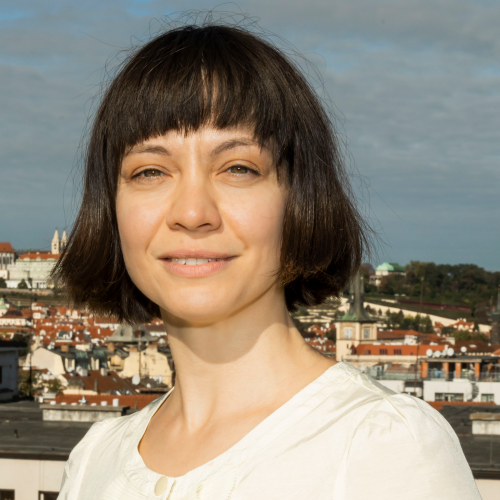 Jitka Krejcarová
Jitka Krejcarová
office manager

Why I work in Duhovka 
Duhovka gives me opportunities to develop not only professionally. It listens to me and tries to find ways to the satisfaction of both parties. I appreciate that.

Experiences that help me in my work
I am an active person by nature, which suits Duhovka. If I just wanted to clock in my working hours and I didn't care what I left behind, it wouldn't work :)